New Guinea Highlands Coffee Exports
Papua New Guinea's leading coffee exporter
New Guinea Highlands Coffee Exports
Papua New Guinea's leading coffee exporter
We have a diverse supply base that provides us access to the large range of unique coffee produced from all regions of Papua New Guinea.
Our Vision and Mission: we want to be the best green coffee service group in Papua New Guinea
By being a member of the world's leading supplier of green bean, Neumann Kaffee Gruppe, we are able to provide our customers with a professional approach in all aspects of coffee sourcing and handling from this unique origin. From the sampling and preparation of the coffee as per a client's unique needs, to specific trade requirements and efficient shipping and documentation processing.
Our experienced team sources the coffee you need and is committed to professional and efficient service.
Our History
The beginning

New Guinea Highlands Coffee Exports was established in 1992. A few years later, in 1996, the company joined the Neumann Kaffe Gruppe.
Our head office is located in Goroka, Eastern Highlands Province. This is in the heart of the PNG Highlands coffee region. Our buyers and supply chains are strategically located in all of the major coffee producing areas of Papua New Guinea.
We are Papua New Guinea's leading coffee exporter, committed to responsible sourcing and sustainable supply chains. This allows us to effectively collaborate with coffee growers around the country and develop certified coffee chains and amazing specialty lots with unique stories.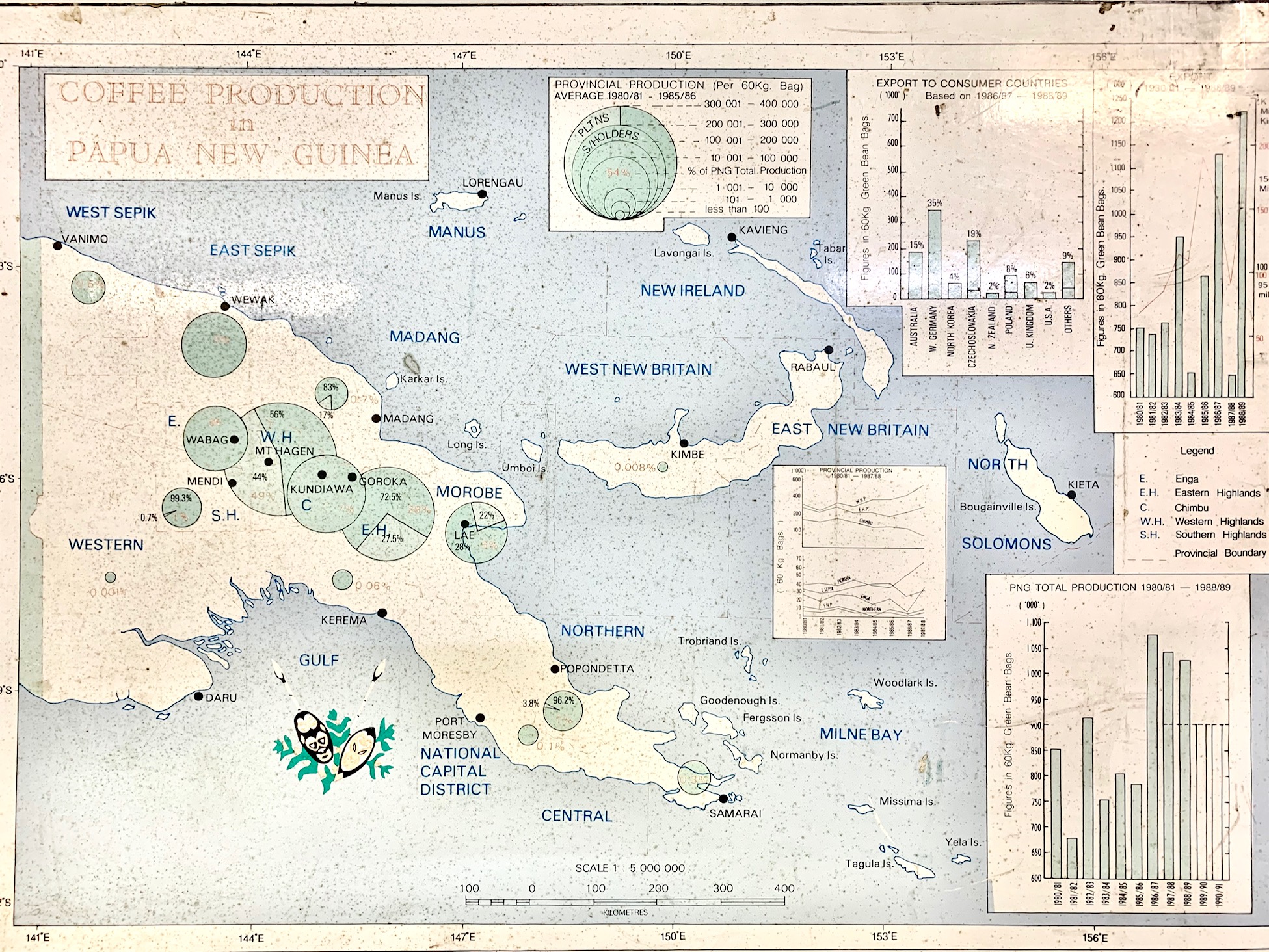 We have access to all grades from Papua New Guinea's coffee producing regions.
Our employees are as diverse as our coffee; we employ staff from more than 20 different tribes, speaking the same number of different languages. Through this amazing mix of culture and individual identities we have a loyal and dedicated team with a deep passion for, understanding of and commitment to this unique origin.
The vast majority of Papua New Guinea's coffee is produced by smallholder subsistence growers and it is crucial that we maintain a strong relationship with our supply base. For this reason, New Guinea Highlands has a dedicated team providing farmer extension services to the coffee growing communities. Sustainable sourcing, Certification programs and providing access to local and international (specialty) markets is crucial to our business.
We own and operate state-of-the-art mills that provide us with all the options needed to cater for your coffee requirements.
State of the art Processing and Warehousing
Our milling and warehousing facilities are strategically located in the heart of Papua New Guinea's Coffee producing regions. Our main office and warehouse are in Goroka, Eastern Highlands Province, with our dry mill just next door from the office. In the Western Highlands Province we operate a modern wet and dry mill facility near Mt. Hagen. All our milling equipment is of the highest standard to ensure best possible preparation for your coffee. From latest generation Color Sorting technology to brand new high capacity destoners and grading equipment.
All coffee is transported by road over the famous and scenic Highlands Highway to the port of Lae. Although traditionally PNG's coffee gets exported in 60kg double jute bags, we can ship in single jutes, Grainpro or Ecotact, bulk shipments, mixed container loads and full color customized bag marks.
Our shipping department works closely together with professional and efficient freight forwarding facilities at port to ensure that your coffee will meet the nominated vessel and you will receive your documentation in a timely manner.